KRS-One Apologizes For Naming The Wrong Beastie Boy In A Tribute To Hip-Hop's Fallen MCs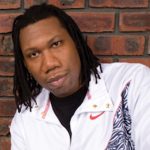 In the last week, lyrical legend KRS-One excited fans with the latest sneak attack release, The World Is Mind. Just over 30 years after Criminal Minded, this self-released album had many praising the latest body of work from the South Bronx representative. However, as fans delved into the album (available for full, free stream), they noticed a mistake from Hip-Hop's "Teacha."
On the song "Hip-Hop Speaks From Heaven," an ode to MCs who have passed away, Kris paid tribute to Beastie Boys member Ad-Rock. Adam Horovitz is very much alive, and pursuing an acting and production career. Five years ago last week, Beastie Boys member Adam "MCA" Yauch died after a battle with cancer. Both named Adam, Kris was presumably not the first to make the mistake, but he did on the album—for all to hear.
Scott La Rock To Have Street In The Boogie Down Bronx Named In His Honor (Video)
In a statement on social media, KRS-One has now acknowledged the mistake. A mid-1980s Rap contemporary of the Beasties, Kris vows to re-record the song, and pull the erroneous version (which he apparently already has). The renowned poet, teacher, and frequent spokesman for Hip-Hop culture was not above calling himself out, despite good intentions.
In part, KRS writes, "Historical accuracy is extremely important to me, so I accept all responsibility for this error. Those that know me are aware as to how fast I record in the studio and how immediately my material is released after that." He adds that many of his recordings are based off of freestyle, off-the-head verses in the lab. "No excuse though, I am on top of this and again, my sincerest condolences to King Ad-Rock who is alive and well."
Less than two years ago, KRS-One ruffled feathers when he dissed another 1980s Def Jam Records seminal act. After a fan jumped on stage, Kris deemed the shower-goer "wack," and compared him to LL Cool J during a concert freestyle. Video of the performance circulated across the web. Later, KRS apologized in a detailed freestyle, praising his Queens contemporary.
Listen To The Sure Shot Verse From MCA's Career Through Large Professor's Remix (Video)
While KRS did not collaborate with the Beastie Boys, they each have histories with Nas, Biz Markie, and D.M.C.
Go to Source
Author: Bandini
Powered by WPeMatico