Save This Biggie Mural By Signing A Petition To Make It A Landmark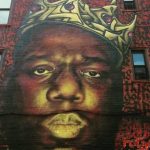 CLICK HERE TO SIGN THE PETITION
Yesterday, reports surfaced that one of Hip-Hop's most recognized murals, a painting in Brooklyn depicting The Notorious B.I.G. wearing a crown, was on the verge of being destroyed. According to an article in DNA Info, Samuel Berkowitz, the owner of the building that houses the mural, is seeking to add windows to the building's facade, so that he can charge tenants more rent. "Why should I keep it," Berkowitz said to DNA. "I don't even see the point of the discussion. I could demolish the building if I wanted to, I don't need no permission from anyone except the [Department of Buildings]."
Dead Wrong: A Bed-Stuy Mural Of Biggie Smalls Is Coming Down For Mo' Money
Well, it turns out Berkowitz will need permission, if the building is declared a landmark, and a new petition is seeking to do just that. "It's bad enough there is an affordable rental crisis in the city but now the landlord wants to destroy the culture that makes Brooklyn special. However, if we make this building a landmark, we can preserve the mural. By landmarking the building the landlord is unable to make any changes to the facade without permission from the Landmarks and Preservation Commission," reads a statement by Nia Raquelle, who has started the petition on Change.org. "It is my intention to go to one of the upcoming public hearings, most likely the June 6th hearing, so there is adequate time to get signatures and fight for this mural," she continues.
The petition currently has just over 1000 signatures, but this in an opportunity for Hip-Hop to send a real statement about the power and value of our culture. It literally takes less than a minute to add your signature. If Biggie, art or Hip-Hop means something to you, CLICK HERE TO SIGN THE PETITION
Raquelle joins Spread Art NYC in fighting to keep the mural alive. The organization offered Berkowitz $5,000 to preserve the mural, but the landlord refused.
Ambrosia For Heads will continue to update this story, as it develops.
Go to Source
Author: Parfit
Powered by WPeMatico