Rudebwoy Roscoe – "50 Clip" Ft. George Getson & Nahkim
Rudebwoy Roscoe was born in Queens, New York, to Jamaican/Guyanese immigrants. Rudebwoy Roscoe was the last of 5 children and the only to be born in the United States. He attended  High School in Jamaica , New York before transferring  to school in Connecticut to play basketball. While initially being recruited to play Divison II basketball , he studied Liberal Arts a SUNY school upstate New York. Unfortunately Rudebwoy suffered a season ending injury and never played again. Shortly after he dropped out to pursue music and moved to New York City.
Once moving back home Rudebwoy Roscoe began to release music independently and began receiving recognition. Performing at showcases and community colleges also helped create his buzz. He began his own brand "Regal Life" which included upcoming Musicians, Entrepreneurs, and Actors. To raise awareness of his brand "Regal Life Entertainment" he began to host upscale Pent house Parties throughout Manhattan. Not long afterwards suspicion of street violence and drug activity began to be associated with the "Regal Life" events.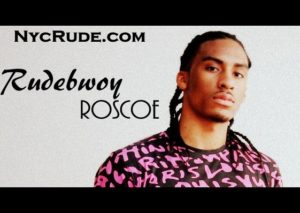 In November of 2012, NYPD Detectives illegally barged into a "Regal Life" event and conducted a search for drugs, and guns. Though no illegal substances were found Rudebwoy was still arrested that night while having $2,300 confiscated from him and a fellow promoter. In court charges were dropped, however Rudebwoy never received the money which was taken from him.
After constant legal and personal complications Rudebwoy Roscoe regressed with his brand and began to focus on his solo career. Using social media to get his music across proved to be very successful. So successful that hackers prayed on all of his social networks including Twitter, Instagram , and Youtube. Hackers were successful in not only taking his accounts but impersonating him to T-mobile services to gain personal information. From the Cyber attack he lost over 100,000 followers and his youtube page with an estimated 150,000 – 200,000 views.