Odell Beckham Jr. Carted Off Field, Likely Out For Season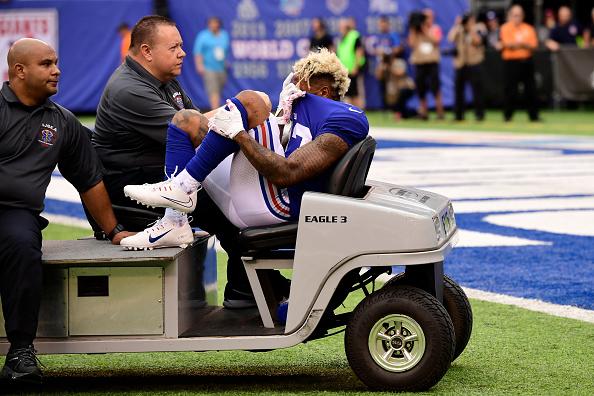 New York Giants' star wide receiver Odell Beckham Jr. suffered a broken ankle in yesterday's 27-22  loss to the Los Angeles Chargers, according to ESPN. According to reports, Beckham will get a second opinion before deciding on surgery to repair the ankle, which is the same one that he injured during the preseason.
Odell was carted off the field with four minutes remaining in the game after he went up for a catch and fell awkwardly to the ground. The 24-year old Pro Bowl receiver was in obvious pain as Chargers players immediately called for medical attention as soon as he went down. 
Adam Schefter reports that Beckham is expected to miss the remainder of the season although the team will still seek a second opinion before making a decision.
This does not look good for Odell Beckham. Ankles aren't supposed to bend like that. pic.twitter.com/dNR0qe2NPC

— The Ledge (@TheLedgeSports) October 8, 2017
Odell Beckham is hysterical as he's loaded onto the cart and taken off the field. pic.twitter.com/DHsXwt2nGu

— CBS Sports (@CBSSports) October 8, 2017
Odell wasn't the only Giants wide receiver injured in yesterday's loss, which dropped the team to 0-5 on the season. Brandon Marshall was also carted off the field with an ankle injury in the second quarter, not long after Sterling Shephard limped off the with an ankle injury as well. Neither player returned in the second half.
Additionally, Dwayne Harris, who also serves as the Giants' Kick/Punt returner left on a cart early in the third quarter with a fractured foot and is expected to miss the remainder of the season, according to ESPN's Adam Schefter.
New York will travel to Denver in Week 6 for a Sunday night matchup against the Broncos.
Giants lost WRs Odell Beckham JR, Brandon Marshall and Sterling Shepard to injury today.

— Adam Schefter (@AdamSchefter) October 8, 2017
Giants punt/kick returner was Dwayne Harris – out for year. Backup PR Odell Beckham Jr- probably out for year. Backup KR – Shepard, ankle.

— Adam Schefter (@AdamSchefter) October 9, 2017
On the same day, the NFL lost its most buzz worthy star (Odell Beckham Jr.) and its currently most beloved star (JJ Watt).

— Darren Rovell (@darrenrovell) October 9, 2017
Go to Source
Author: Kyle Rooney
Powered by WPeMatico