Johnny Manziel Opens Up About Bipolar Disorder & Alcohol Abuse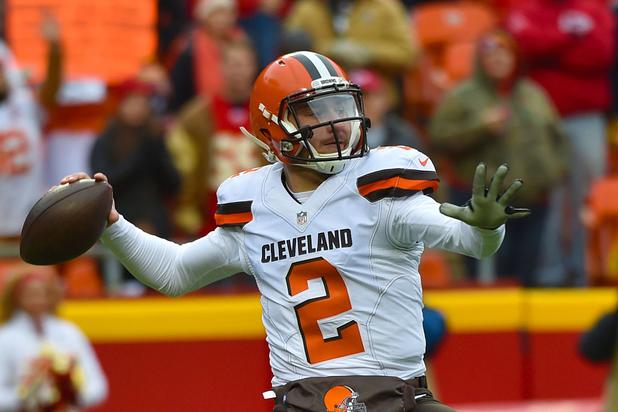 Former Cleveland Browns quarterback Johnny Manziel is still working on his NFL comeback and he finally appears to be taking the necessary steps that could grant him the opportunity to get back onto the field. 
During an interview with Good Morning America which aired today, Manziel admitted to being diagnosed with bipolar disorder "about a year ago" and says he has been taking the proper medication.
RELATED: Cavs Destroy Celtics In Boston; Paul Pierce Becomes A Meme
In addition to taking the meds, the former Heisman Trophy winner also told GMA that he is sober and no longer abusing alcohol as he used to when battling depression. Manziel, 25, accepts full blame for the outrageous drinking binges, bizarre social media videos and run-ins with the law over the last few years which resulted in him being out of the NFL just two seasons into his career.
He tells GMA (H/T ESPN),
"At the end of the day I can't help that my wires are a little bit differently crossed than yours, I can't help my mental makeup of the way that I was created," Manziel said. "But I know if I stay on these meds and I continue to do what I am doing right now … I think my dad, my mom, I think [girlfriend Bre Tiesi], would all agree that they see a drastic change."

"You are left staring at the ceiling by yourself and in that depression and back in that dark hole of sitting in a room by yourself, super depressed, thinking about all the mistakes you made in your life," he said. "What did that get me? Where did that get me except out of the NFL? Where did that get me? Disgraced."
Manziel also opened up on Barstool Sports' "Pardon My Take" podcast about his time in Cleveland and how he was "focused on the wrong things."
"If I hadn't gone through what I have the past few years and shot myself in the foot and made my situation so bad, I wouldn't have been able to learn. I've been a hard headed person my entire life and everything I heard during my days in Cleveland went in one ear and out the other because I was focused on the wrongs things or just in a funk and I wasn't able to see it any other way."
Although he has not played in the NFL since the 2015 season, Manziel is certain he'll be back on the football field before long. He tells Pardon My Take, "I can say for certain that this year I will be back on the football field and I can't fucking wait."
Go to Source
Author: Kyle Rooney
Powered by WPeMatico